Divided Britain: How renting in London costs 45% more than a decade ago, but LESS in the North West and North East
Rents in London have increased by 45% on average since 2007
Compares to drop of 7% in the North West and 4% in the North East
Since 2004, tenants have typically spent between 32% and 37% of their wages on rent, compared to 42.2% in London
The North South divide is not just restricted to house prices – a stark gap has emerged in rents too over the past decade, a new report reveals.
While rents in London have soared in the last decade, the same trend has not materialised in northern parts of the country.
In the capital, rental costs have surged 45 per cent since 2007 to reach £1,609 a month, according to data by analysts Hometrack. However, in two areas – the North West and North East – rents have actually fallen, seven per cent and four per cent respectively.
Divide: Rents in London have soared 45% since 2017 – but have fallen in the North East and North West
This means it now costs more than three times as much to rent the typical home in London as it does in the North East.
Hometrack, which compiled the report, says the disparity is down to faster jobs growth in the capital compared to the rest of the country, which it says feeds through to higher demand for rentals.
For example, the report highlighted how London has seen a 12.5 per cent increase in full-time employment since 2010, compared to three per cent in Birmingham and five per cent in Manchester.
reference: Dailymail.co.uk
NEW STAMP DUTY RATES FOR BUY-TO-LET AND SECOND HOMES
Last week, the Chancellor announced that from April 1 2016 buyers of buy-to-let or second homes would pay 3 per cent more than ordinary buyers for properties above £40,000.
So that means they pay 3 per cent on the first £125,000, instead of nothing. From the portion of the property worth between £125,001 and £250,000, they pay 5 per cent tax instead of 2 per cent.
So under the new regime the stamp duty bill on buying a £200,000 home will be £7,500, instead of £1,500.
Here are the new stamp duty rates in full:
£0 to £125,000: 3 per cent (0)*
£125,001 to £250,000: 5 per cent (2 per cent)
£250,001 to £925,000: 8 per cent (5 per cent)
£925,001 to £1.5m: 13 per cent (10 per cent)
Above £1.5m: 15 per cent (12 per cent)
*Figures in brackets are the current rates. 
60 per cent LTV
Virgin Money is offering a two-year fixed rate of 1.99 per cent with a £1,995 fee, plus £750 cashback.
The monthly payments on a £150,000 mortgage work out at £248 when arranged over a 25-year term.
Accord Mortgages has the lowest two-year fixed rate for a buy-to-let mortgage at 1.84 per cent. But its hefty £2,625 fee pushes up the overall cost.
A 25-year £150,000 interest-only mortgage on this rate would cost £230 a month and have a total cost including fees of £8,145 over two years.
This means that even before the cashback is applied, the overall cost of the Virgin Money product is £180 cheaper at £7,965 once you include fees.
So a landlord could be almost £1,000 better off with the Virgin deal.
For a longer term fix, landlords could consider the current market low for a five-year fix of 3.14 per cent on offer from Birmingham Midshires Solutions.
This buy-to-let loan has a big £2,290 fee, however.
A 25-year £150,000 mortgage on this deal would cost £392 a month and £25,840 over five years.
But with Virgin Money you could pay a slightly higher rate of 3.15 per cent fixed for five years for a £1,995 fee and get £750 cashback.
The 25-year £150,000 mortgage would cost £393 a month and £220 cheaper than Birmingham Midshires at £25,620, even before the cashback.
75 per cent loan-to-value
Barclays currently offers the lowest buy-to-let rate for a 25 per cent deposit at 2.54 per cent with a £1,999 fee.
A 25-year £150,000 mortgage on this rate would cost £317 a month and £9,619 over two years.
In comparison, Virgin Money is offering a rate of 2.59 per cent with a £1,995 fee.
The 25-year £150,000 mortgage would have higher monthly repayments at £323 and would cost £9,765 a month.
That makes it £146 more expensive than Barclays, but this difference is easily wiped out by the £750 cashback from Virgin Money.
Reference:   www.dailymail.co.uk  04/12/2015
Major lenders return to low-deposit mortgages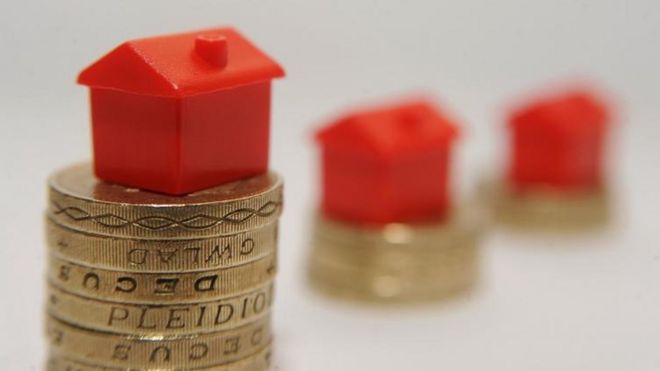 Some major UK lenders have returned to selling mortgages to homebuyers only able to offer a small deposit.
Building society Nationwide, and bank Santander have just launched mortgage products at 95% loan-to-value.
That would require a borrower to come up with a deposit of 5% – about £13,850 for a typical home.
Most mortgages of this kind had needed the support of government through the Help the Buy scheme, but now some lenders are going it alone.
'Healthy market'
This is the first time the Nationwide has offered a 5% deposit mortgage of this kind to all customers since 2008. Borrowers will have to pay 3.99% interest and a fee of £999 for a two-year fixed-rate deal.
"Nationwide's move significantly increases the society's lending in the first time buyer market and widens consumer choice," said Henry Jordan, Nationwide's head of mortgages.
Santander pointed to the fact that part of the government's Help to Buy scheme was due to end in 2016, but the lender was "ready to extend our commitment to lending up to 95% loan-to-value without the need for government support".
"There is now a healthy market for customers with smaller deposits," said Miguel Sard, Santander's managing director of mortgages.
Mortgage broker Aaron Strutt, of Trinity Financial, said: "It is great to see more lenders offering straightforward 5% deposit mortgages and specifically targeting first-time buyers.
"We have been waiting a long time for the biggest banks to return to this market."
Reference: bbc.co.uk /news    14/09/2015
https://www.allsaintsagency.co.uk
All Saints Estate Agency,   44 Reynard Way
Kingsthorpe, Northampton, Northants, United Kingdom NN2 8QX
Tel: +441604245486
— AllSaintsEstateAgent (@allsaintsagency) July 21, 2015